Richard A. Morse
Entertainment Attorney
Veteran Entertainment Attorney Richard Morse's 15 plus years experience encompasses specialized services in entertainment, arts, sports, new media, licensed merchandising and business development. Over the last decade he has served as General Counsel and/or head of business and legal affairs for entertainment industry corporations which include: production, film finance and international distribution companies, as well as investment banking firms and new media developers/distributors. Rick's eclectic list of past private clients includes multi Oscar winning director/producer Jonathan Sanger, Milton Berle, funk music innovator, Rick James, living vocal legend, Yma Sumac, and rock and roll art guru, Stanley Mouse.
Currently, Rick is acting as production counsel and producing numerous feature films, six of which are currently listed on IMDbPro, including, Wild Oats, which he is executive producing and coproduction counsel on, directed by Howard Deutch, shooting in Pittsburgh and Las Vegas in January. This raucous comedy boasts an unbelievable ensemble cast including numerous Oscar winners/nominees: Shirley MacLaine, Jacki Weaver, Alan Arkin, James Caan, and Maria Bello with final negotiations in the works for Antonio Banderas. He is the production counsel and one of the producers for I'll See You Again, to be produced by client, Helix Films, directed by Steven Charles Jaffe, shooting in New Orleans in the first quarter of 2012, with Christian Slater and offers to other cast members pending. Helix has an impressive slate of acquired and developed properties that will be rolling out behind their first film.
Rick is also working on the production legal of three films with veteran international producer Pieter Kroonenburg, including a film that everyone must see, about the real world Whale Wars of Paul Watson and the Sea Shepard Conservation Society—Ocean Warrior. They are close to announcing a stellar cast and director for this epic film. The second one, that will film this winter in China, should be coming up on everyone's best picture watch list, directed by Chuck Russell, and based on the best-selling action novel, The Last Mandarin, by Stephen Becker - Forbidden City, for which Rick is on board as a producer and production counsel. This is an epic action/adventure espionage thriller set in 1949 following the end of World War II. The final one is: "Chet Baker, Prince of Cool", based upon the book of the same name, about one of the most amazing and eclectic jazz musicians of all time, greenlit to shoot in the first quarter of 2012.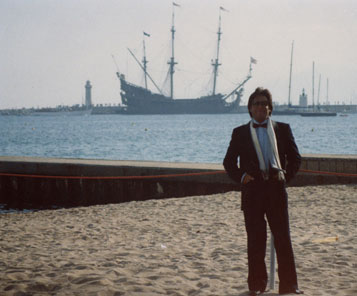 Further, Rick was just engaged by Mary Krell-Oishi, whose first two screenplays, Secret Asian Man and What Would Meg Ryan Do have been repeatedly crushing the competition in major festivals and screenwriting competitions, to get these either set up with one of the majors or packaged with top directors and lead cast for production.
Rick's current schedule is rounded out by the representation of one of the industries leaders in bridge and specialty financing, Blue Rider Finance, and other names in independent production and production finance. Prior to these engagements over the last few years, Rick was the General Counsel for international distributor, Bauer Martinez Studios, with whom he coproduced and was production counsel on the Chaos Experiment, starred Val Kilmer, Eric Roberts and Armand Assante. 
For the year prior, Rick held the same General Counsel position for Grand Illusions, the production company helmed by multiple Oscar award winning producer, Jonathan Sanger (Elephant Man, Mission Impossible, Vanilla Sky, The Producers) where Rick was also the associate producer/production counsel on Jonathan's film, "100 Feet". Prior to that, Rick was General Counsel and Head of Business and Legal Affairs for Entertainment Business Group, its production/development subsidiaries and TV division.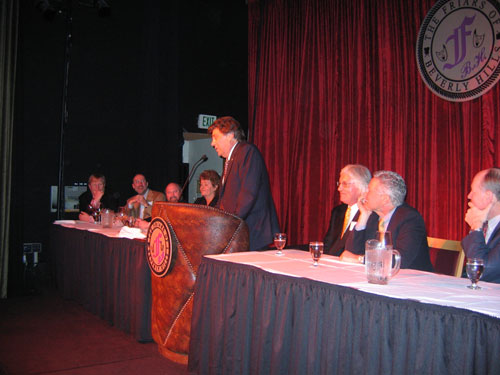 Prior to that stint, Rick held the position of General Counsel/VP of Business and Legal Affairs for iMedia International (formerly Mod Studios) in a JV with Signatures Network (formerly Sony Signatures Network). The venture was a cutting-edge production/distribution project, developing innovative digital media including electronic licensed merchandise, ITV and VOD. They produced Hollywood Previews, the  first monthly interactive video magazine and various electronic licensed merchandise products for recording artists  including: Ozzy Osborne, the Eagles, Britney Spears, Incubus, & Elton John,  feature films (e.g. "Terminator 3") and sports promotions (e.g. The Dodgers).
Much of Rick's prior experience up to that juncture included high profile entertainment, sports and intellectual property litigation including the breach of contract suit for all rights to "Beverly Hills 90210" and "Melrose Place" and the "SeaQuest", "Winds of War" and "Medicine Man" copyright infringement cases. He also was the Consulting Counsel in one of professional sport's biggest licensed merchandise litigations regarding the Master License for all NBA animation rights.  This led to Rick's appointment as Head of Entertainment Law for world famous trial attorney Melvin Belli, at his new Beverly Hills Office, where his responsibilities encompassed both transactional and litigation duties as to entertainment and sports law matters.  Rick previously served as outside House Counsel for Gray/Goodman Literary and Talent Agency, negotiating major studio production agreements for their top director/screenwriters (e.g. Quentin Tarrentino - "Reservoir Dogs").
In the last year, Rick has also come on board as the counsel for Imagineering Dreams Group, partnered with the internationally acclaimed Théâtre de la Dame de Coeur (TDC) of Québec to develop innovative family entertainment. TDC, has developed the most unique entertainment products in the world today, with its dream team made up internationally experienced senior executives from Cirque Du Soleil, DRAGONE Productions, Disney and Universal Studios. It is being described in the press as "Cirque du Soleil meets the Lion King", all in a multi-medium show accomplished with puppets that are up to three stories high.
Rick received a BA with Honors in Psychology (Marketing emphasis) at the University of California, Berkeley. He received his law degree from the University of California's Hastings College of Law where he was appointed to the Hastings Communications and Entertainment Law Review. Together with his faculty advisor/mentor Roscoe Barrow, the US Presidential Special Counsel for Communications and Entertainment Law, Rick drafted weekly advisory opinions for the White House while studying under two Supreme Court Justices, a United States Secretary of State and an United Nations Ambassador, while studying entertainment and music law under the mentorship of Neil Bornstein, attorney for the Beatles.
Rick has taught Continuing Legal Education classes in Entertainment, Sports and Publishing for UC Davis and the University of Houston. His speaking engagements include the American Trial Lawyers Association annual seminar, the USC graduating class in Communications, and numerous TV and radio talk shows. He has been the President of the Los Angeles Chapter of the Hastings Alumni Association for the last five years. Rick, a direct descendent of Samuel F.B. Morse, the inventor of the telegraph and namesake of the Morse Code, was skiing at 18 months, a sponsored skateboard team rider at 14, and placed in the top 10 in two of three events in the inaugural International Skateboard Championship, going on to become one of the trail blazers in extreme skiing, at its birthplace on the Palisades of Squaw Valley USA. He currently resides in Marina Del Rey with his wife, Jan, the Grants Director for the Boys and Girls Club of Santa Monica.
To be continued…
---
In The News...
Beverly Hills Times interviews Rick Morse
---
Hollywood Reporter - Rick Morse Associate Producer/ Production Counsel on Mine That Bird
---
Variety - Ocean Warrior
---
Ozzy Enshrined - Rick Morse in Attendance
Contact
Rick Morse, Esq.
Email:
rickmorseesq@gmail.com
13935 Tahiti Way Suite 337
Marina Del Rey CA 90292
(310) 351-6877 (office)
(310) 827-5013 (fax)